On March 20th , NWAFU successfully held the Spring Online Job Fair for the Fresh Graduates of 2020 on the Cloud Employment platform. NWAFU president Wu Pute watched the live online fair from the background data and reaffirmed the importance of the NWAFU students' employment.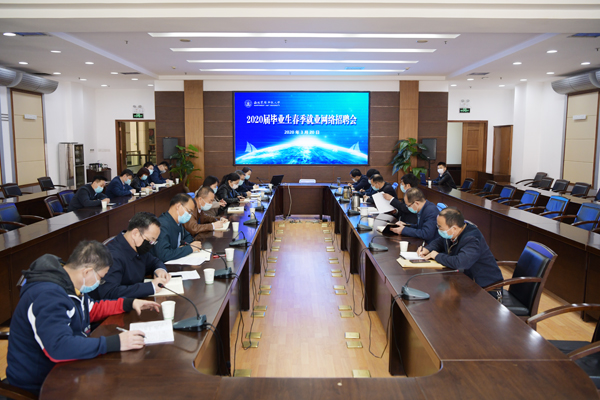 During the job fair, Mr. Wu Pute connected with Liao Dan ( a NWAFU student from Hebei province), and Gao Huansen ( the NWAFU alumni of year grade 1989 and now the Director and MD of Shenzhen Noposion Agrochemical Group Co., Ltd.), inquiring about the situation of job application and recruitment from different aspects. He then learned about the recent advancement of employment from the key speeches made by the heads of College of Water Resources and Architectural Engineering and the College of Landscape Architecture and Arts.
  As of 17:00 pm on the day, nearly 2,000 graduates from our university had participated in the job applications, and over 6,900 resumes had been submitted online, with more than 2,700 invitations sent and interaction conducted. The follow-up interviews and evaluations are now still in the process. In addition, this job fair attracted nearly 1,000 graduates from more than 100 fellow universities such as China Agricultural University, Lanzhou University, South China University of Technology, Xinjiang University, Northwest University, etc. The total number of clicks on the job fair exceeded 50,000, which greatly highlighted the concept of sharing and opening up.
  At the job fair are in all 448 organizations from 29 provinces or cities ( districts) across the country, covering universities, institutions, research institutes, state-owned enterprises, private enterprises and educational institutions. The jobs belong to the industry in construction, education, agriculture, forestry, animal husbandry and fishery, software and industry information technology services and transportation. It provided more than 1,800 high-quality jobs for the new graduates. For the total number of job needs reached over 39,000, the ratio of needs and supply was as high as 8:1. NWAFUers perfectly met the demands of the employee as to the majors and diploma. "Global Top 500", "China Top 500", "Top 500 Private Enterprises in China" and "Listed Companies" accounted for 46% of all the job supplier institutions, including Sinochem Group, Haid Group, Kangdarl Group, Yutong Group, and COFCO.
  Translated by: Zhao Rui
  Proofread by: Yan Xianhui