Home
» Highlight
Poetry Recitation Contest Held in Honor of the History and Future
Author: Zhang Mingxia  Date:2021-09-18
"On September 18th, the date engraved on our minds, I hear the north wind wuthering loud and the south cuckoo crying blood; On September 18th, we chin up and chest out. On this day of flames and blood, the Five-Starred Red Flag is fluttering in the wind."
On September 18th 2021, hundreds of students attended the choruses in Hall107 of the College of Animal Science and Technology, in honor of the 90th anniversary of the Mukden Incident. The recitation contest was themed on "commemorating the history and looking forward to the future", with 18 teams from the College of Animal Science and Technology, College of Enology, and College of Humanities.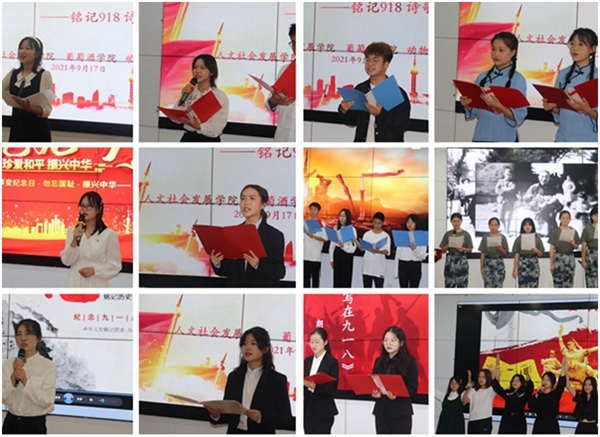 The contest consisted of preliminary, semi-final, and final, attracting hundreds of students to participate.In the final round, 18 teams from 3 colleges displayedtheir skillful performances. With the sonorous voices, sufficient emotion, and stirring background music, the power of words managed to reach deep into the heart of the audience, inspiring the love for the country and winning endless applauses in the room.
Associate Professor Kang Yan from the College of Marxism provided instructions for the contest. In her speech, she encouraged the students to draw lessons from the history and shoulder the responsibility for constructing a strong and prosperous China.
Translated by Tian Yiyun
Proofread by Yan Xianhui