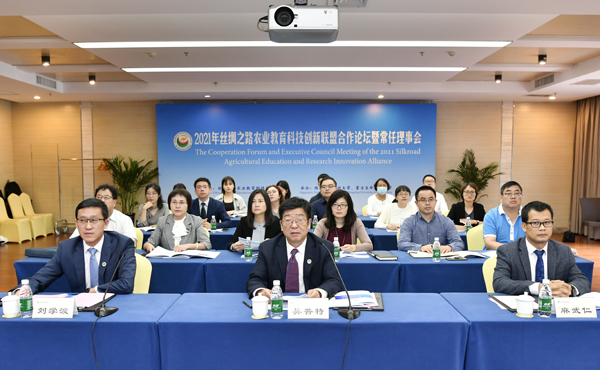 On the afternoon of September 16th, the 2021 Cooperation Forum and Executive Council Meeting of the Silkroad Agricultural Education and Research Alliance was held in a combination of online and offline way. Mr. Wu Pute, secretary-general of the Alliance and NWAFU president, presided over the meeting and delivered a speech.
In his speech, Mr. Wu Pute made three points on the future work of the Alliance. Firstly, members should focus on the current situation and take a long-term view on all aspects of the work by enhancing mutual understanding, consensus, and cooperation guided by the constitution of the Alliance. Secondly, under the guidance of the Silk Road spirit, members should play an exemplary role in strengthening close cooperation among the Alliance to promote the overall development. Thirdly, members should respond actively to the challenges in the post-COVID-19 era, accelerate multilateral and bilateral communication, and continue to promote the progress of agricultural education science and technology in countries and regions along the Silk Road by building cooperation platforms, innovating cooperation mechanisms and strengthening resource sharing.
The meeting was sponsored by the Secretariat of the Alliance and organized by Mongolian University of Life Sciences. At the meeting, the 14 council members joined in-depth discussions on the follow-up work plan of the Alliance and put forward suggestions for its future development. Irkutsk State University, Institute of Crop Cultivation of Ukraine National Agricultural Science, Kostanay State University, Qingdao Agricultural University, China International Agriculture Investment Corporation were newly admitted by the Alliance, which has so far 95 council members.
After the executive council meeting, the 2021 cooperation forum of the Alliance officially opened. The meeting was themed on the agricultural development, Science and technology, and innovation along the Silk Road. Director of MoFALI Policy and Planning Department Ts.Bolorchuluun, President of Agricultural University of Tajikistan Mahmadyorzoda Usmon Mamur, Vice President of Kyrgyzstan State Agricultural University, Vice President of Mongolian University of Life Sciences Gombo Gantulga, Vice President of Belarusian State Agricultural Academy , and Vice President of Qingdao Agricultural University Tian Yike delivered speeches.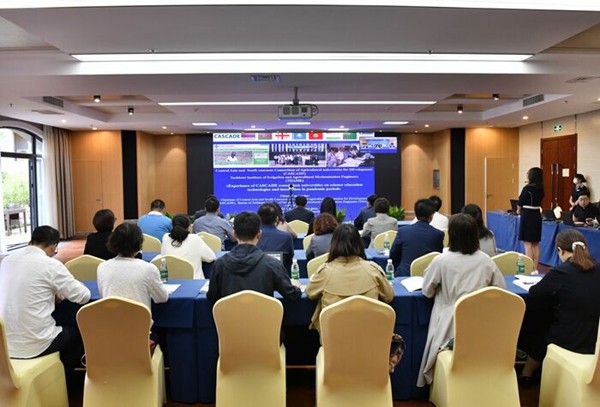 The venue of the 2021 Cooperation Forum and Executive Council Meeting of the Silkroad Agricultural Education and Research Alliance
Translated by Tian Yiyun
Proofread by Yan Xianhui