Home
» News
The 2021 Yangling International Agri-Science Forum Inaugurated at NWAFU
Author: Fu Wenting ,Zhi Yongping  Date:2021-10-23

On the afternoon of October 22nd, the 2021 Yangling International Agri-Science Forum themed on " Rural Revitalization: Theory• Policy •Practice" was inaugurated at our university.
Sponsored by Ministry of Science and Technology and People's Government of Shaanxi Province, and co-hosted by NWAFU, Science and Technology Bureau of Shaanxi Province and Management Committee of Yangling Demonstration Zone, the forum holds 94 researchers/scholars as participants who are from 62 organizations of 19 countries.
At the three-day forum, all participants shared experiences in the exploration of agricultural development in their countries. Themed on Rural Revitalization, they exchanged ideas on the topics of Digital Village and the Modern Agriculture Development, Plant Seed Industry and Food Security, Functional Food and Human Health, and Ecological Governance and Beautiful Villages, analyzing the new trend, new requirements and new challenges of the modernization of agriculture and rural development and seeking for global collaboration in promoting the development of rural areas in innovative manners.
"Online+Offline" is the way that the forum was conducted. Participant from other institutes in or abroad addressed the ceremony or gave reports online while the local participants watched the live presentation in the conference hall and interacted with each other through internet.
Since initiated in 2007, the Forum has been held 14 sessions consecutively and has attracted over 1,000 scientists for the grand academic event. The annual Yangling International Agri-ScienceForumhas become an important platform for scientists from all over the world to exchange ideas ofglobal agricultural issues.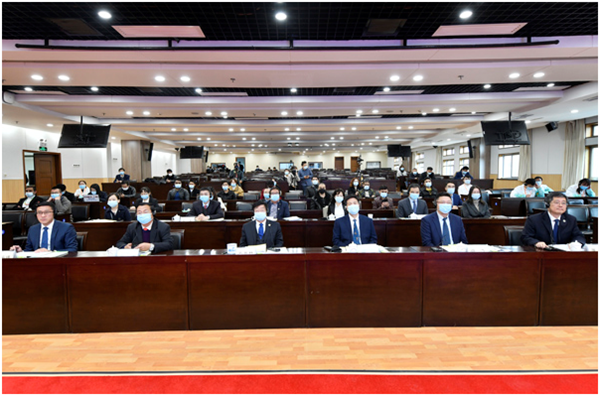 at the Yangling International Agri-ScienceForum
Translated by Tian Yiyun
Proofread by Yan Xianhui