Home
» News
Journal of Stress Biology Included in the DOAJ
Author: Huang Panpan  Date:2022-01-14
On January 10, the English-language journal Stress Biology hosted by Northwest A&F University was officially included in the DOAJ (Directory of Open Access Journals), an internationally renowned open access journal directory database (https://doaj.org/toc/2731-0450).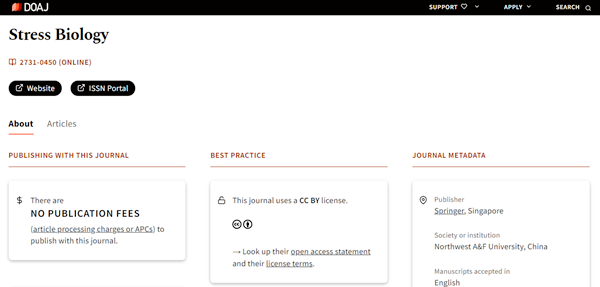 Stress Biology is an open access (OA) online journal co-published by our university and Springer Nature Group. It focuses on publishing the latest research progress and information on stress biology, and aims to build an international academic exchange platform that leads the forefront of scientific and technological development.
The editorial board of the journal is composed of 58 internationally renowned experts from 10 countries. The average h-index of the editorial board is about 38. The Co-Editor-in-Chief of the journal are Academician Kang Zhensheng ---Director of the State Key Laboratory of Crop Stress Biology in Arid Regions of NWAFU), and Academician Zhu Jiankang (American Academy of Sciences) --- Director of the Institute of Frontier Biotechnology of Southern University of Science and Technology .
The inclusion by DOAJ symbolizes the certification of the quality of Stress Biology, and is of great significance to increase the visibility and enhance academic influence of this journal.
Translated by: Tian Yiyun
Proofread by: Yan Xianhui