Home
» News
NWAFU Museum Garden Won the Title of Civilized Tourists Attraction of Shaanxi Province
Author: Zheng Hao  Date:2021-01-03
On the afternoon of December 28th, co-hosted by Civilization Bureau of Shaanxi Provincial Party Committee and Department of Culture and Tourism of Shaanxi Province, the closing ceremony of "New Times, New Civilization, New Life" and the selection of Civilized Company of Shaanxi Tourism 2018-2020 was held at scenic spot Kunming Lake. NWAFU Museum Garden won the title of Civilized Tourist Attraction of Shaanxi Province, according to the results announced at the ceremony.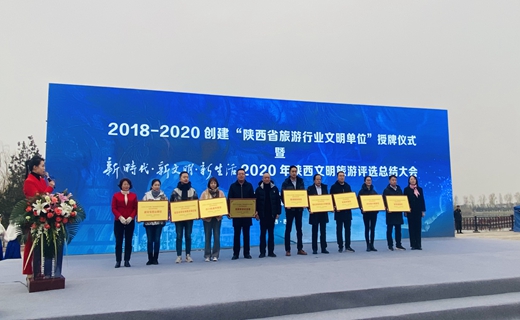 At the awarding ceremony
Since 2018, NWAFU Museum Garden has been fully pitching in the implementation of Opinions on Further Strengthening Civilized Tourism Work of the Civilization Commission of CPC Central Committee, the Convention on Civilized Domestic Tourism Behaviors of Chinese Citizens issued by Ministry of Culture and Tourism, and other state policies and requirements. Taking good advantage of its own resources, NWAFU Museum Garden have achieved great success in the construction of Civilized Tourist Attraction, leaping to a higher level of the spiritual civilization promotion. Many key projects have been brilliantly finished, like the development of people-benefit-oriented cultural tourism, service improvement project and the team building for popularization of science which have the sense of responsibility and mission of spiritual civilization construction profoundly enhanced. In addition, the Garden have always been attaching great importance to the institutional improvement and the promotion and practice of Xinong Spirit,building a highland of cultural transmission and innovative development.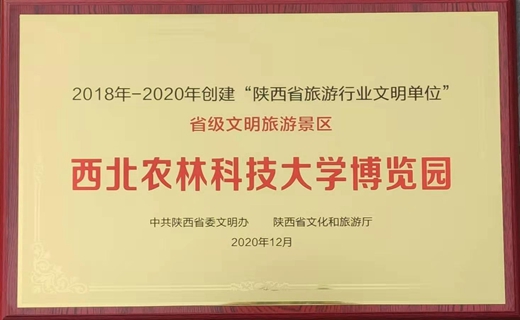 The Plaque of Honor
Translated by: Tian Yiyun
Proofread by: Yan Xianhui