Home
» News
College of Rural Revitalization of NWAFU Established
Author: Xu Xing , Zhi Yongping  Date:2021-12-07
On the morning of December 6th, the inaugural meeting of College of Rural Revitalization was held in the No. 208 conference room of International Exchange Center. By virtue of NWAFU's advantages in talents cultivation, scientific research and social services, this new college will serve to promote NWAFU's strategy in rural revitalization.
Li Xingwang, Zhang Quanming, Ning Dianlin & He Jianjun co-unveil the nameplate of College of Rural Revitalization
Mr. Li Xingwang pointed out that the establishment of Rural Revitalization College is an answer of NWAFU to General Secretary Jin Ping's important instructions on implementing the work of "Three Rural Issues" and deepening the reform of science and education system. It is a practice of NWAFU's "12345" development philosophy to fulfill the mission of prospering agriculture for the rural revitalization. Its establishment is of great significance for NWAFU to further integrate resources of different disciplines. The high-quality talents cultivated for rural revitalization will enjoy the education breaking the boundaries between colleges, disciplines, industries and regions. As the knowledge system enhanced and research directions expanded, the cross-disciplinary connotation construction of ruralism will be greatly consolidated and improve the social service capacity.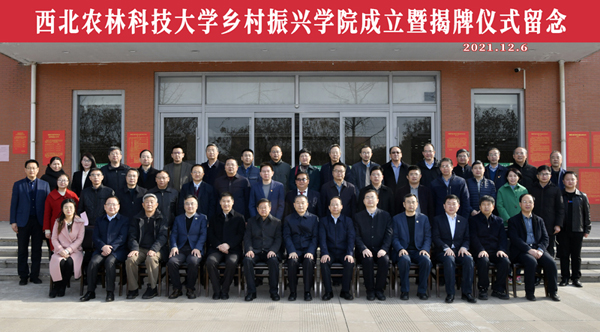 Translated by Tian Yiyun
Proofread by Yan Xianhui