Home
» News
Job Fair for Y2021 Agricultural & Forestry Graduates and Postgraduates Held at NWAFU
Author: Tan Yu, Mu Chuanglu  Date:2021-05-26
On May 23rd, job fair for year 2021 graduates of agricultural and forestry majors was held on NWAFU south campus. This activity serves to promote the employment of year 2021 graduates via building the bridge linking the job hunters and employers.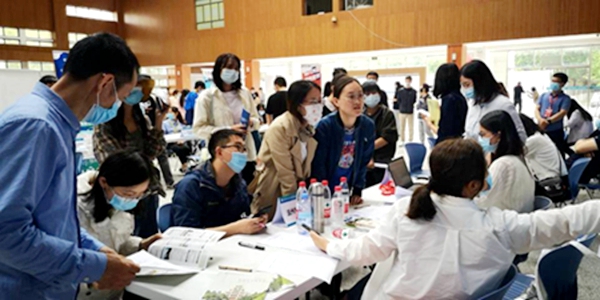 In order to improve the effectiveness of this job fair and attract more high quality employer-organizations, the Student CareerCenter of NWAFUconducted a survey of amongthe graduates and analyzed the datum carefully long before the launch of job fair. Based on the needs of job-hunters, our university entrusted an organizingspecializing in job-fair preparation. On the other hand, we fully took advantages of the resources of the large-scale job fairs in Xi'an, sincerely inviting the employer-organizations, which further exerted the effectiveness of the diversified job market. A total of 60 companiesor institutes were invited, of which Hubei Academy of Agricultural Sciences, Jiangxi Agricultural University and other universities and research institutes accounted for 41.6%. More than 3,000 job vacancies had been provided, including the talents-introduction programs of Shandong Caoxian, Jiangxi Yifeng County, Zhejiang Ningbo, Shandong Tai'an, etc.
On that very day, over 400 graduated from NWAFU, Northwest University and other fellow universities came to the fairs and submitted their job applications. Nearly 50 students had won the job offers. The follow-up affairs is now proceeding orderly.
Translated by: Tian Yiyun
Proofread by: Yan Xianhui