Home
» News
NWAFUConfucius Classroom StudentsWon Awards in the Fifth Olympic Chinese Language Competition for College StudentsHeld by Belarus
Author: Zhang Jie  Date:2022-04-08
With the aim of promoting the Chinese learning of Belarusian students and Chinese culture, the Fifth Olympic Chinese Language Competition for College Students was held at the Confucius Institute of Sinology at Belarusian State University (BSU) of the Republic of Belarus Sinology from March 24 to 25. It is the highest level of Chinese proficiency competition for Belarusian university students.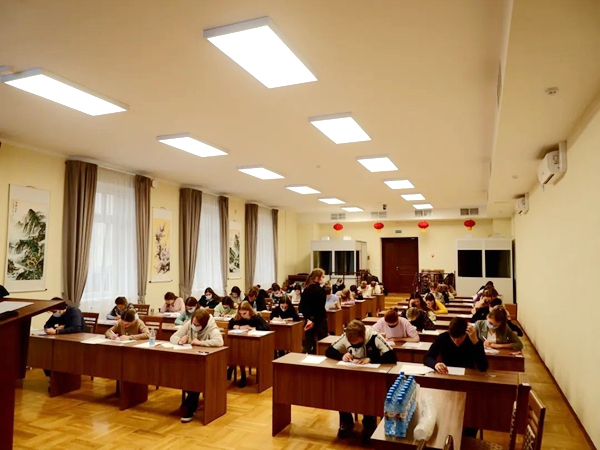 After the previous internal selection of colleges and universities, a total of 87 college students from six States in Belarus finally participated in the competition, which consists of a written test and an oral test. Слабода Диана Юрьевна(Chinese name: Fu Sisi), the Confucius Classroom students of NWAFU, took part in the competition on behalf of the university, and won the award of the Best Player of Brest State . This is the first time that Baranovichi National University won the prize in this competition.
Belarus have provided strong support for the competition. Наталья Евгеньевна Лаптева, the president of Minsk State Linguistic University, said that the Olympic Chinese Language Competition serves as the best opportunity to test students'Chinese competence, improve their professional skills and promote Chinese teaching, propelling all Chinese learners to forge forward. Understanding Chinese knowledge and Chinese culture is playing a crucial role in accelerating Sino-Belarusian cooperation, and the contestants of this competition will surely become the hope and reserve force of new Belarusiangeneration studying Chinese.
Li Bingguo, Head of education Department of the Chinese Embassy in Belarus, said that he was glad to see the growinginterest of Belarusian youth to learn Chinese language and culture. He agreed that the Olympic Chinese Language Competitionhas played a significant role in increasing the enthusiasm for learning Chinese.
photo of the winning contestants, Fu Sisi from NWAFU is on the far left
Translated by: Tian Yuanyuan
Proofread by: Zhang Xiaorong