Home
» News
NWAFU Students Won Three Silvers and Two Bronzes in the 2021 ICPC National Invitational Tournament
Author: Li Chunyan, Tang Qi  Date:2021-06-11
From June 5th to 6th, the International Collegiate Programming Contest (ICPC) National Invitational Tournament came to an end at Northwestern Polytechnical University. 287 teams from 133 colleges and universities across the country participated in the competition.Five teams from NWAFU achieved 3 silver and 2 bronze awards.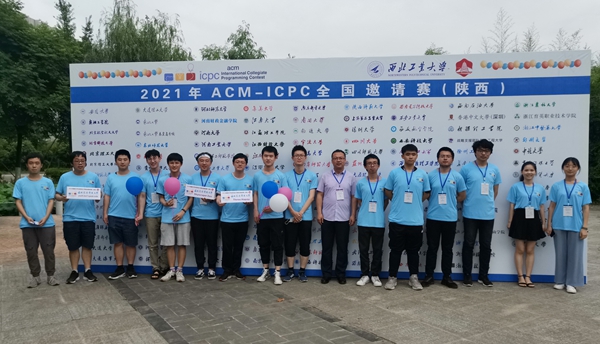 The "SkyScraper zoo" team composed of the 2018 undergraduates Niu Cong, Li Longfei and Yu Zhinan, the "Three Happy" team composed of the 2018 undergraduates Zhao Zhixin, Zhang Chengxiao, and Xu Haoran, and cross-disciplinary and cross-professional "XiaCiYeBuHuan" team composed of the 2020 undergraduates Cai Qifeng and Gong Chengxu and Wang Mingdong, won the silver medal in this competition for their excellent results. The "Want Want" team composed of 2018 students He Yijia, Shen Wenjing, and Zheng Penghui, and the "youth don't speak code" team composed of 2019 undergraduates Li Changle, Xu Yanru, and Xue Zhaoyu won the bronze medal in this competition.
The International Collegiate Programming Competition is a global programming competition for college students initiated by the American Computer Society in 1970. It aims to demonstrate college students' innovative ability, team spirit and ability to write programs, analyze and solve problems under pressure.The competition is a competition project on the "National General Higher Education Subject Competition Ranking List" announced by China Association of Higher Education. NWAFU has recognized it as an A-category competition, and the academic affairs office has attached great importance to and strongly supported it.
Translated by: Ruan Shuling
Proofread by: Zhang Xiaorong