On March 1, when NWAFU is striving for high-quality development in response to the spirit of the 20th CPC National Congress and the goals of the 14th Five Year Plan, "Double world-class project" construction of higher education, and the "Five Benchmarks" project, the 2023 meeting on scientific and technological innovation was held.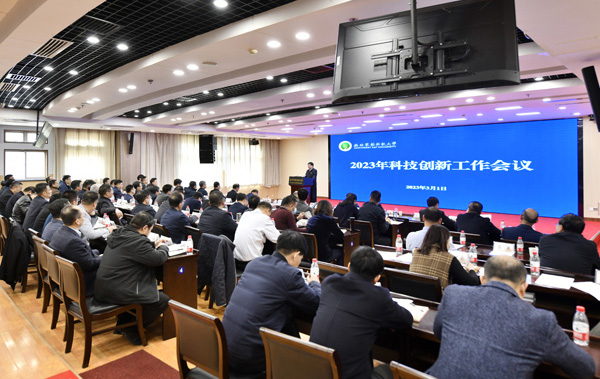 Vice President Fang Yulin gave a work report titled "Advanced Agriculture as Foundation: NWAFU's 'Answer Sheet' on High-Level Scientific and Technological Development". Based on the achievements and experience on scientific and technological innovation in implementing 13th Five Year Plan, the report conducted an in-depth analysis of the opportunities and challenges that may occur in the new stage and determined the key tasks in 2023 accordingly, focusing on the role of teamwork in promoting scientific and technological development.
NWAFU's State Key Laboratory of Crop Stress Resistance and Efficient Production, College of Agronomy, College of Economics and Management, Institute of Soil and Water Conservation, Institute of Future Agriculture made speeches at the meeting respectively, sharing their own achievements and experience on determining research directions, building working groups, restructuring research platforms, enhancing management and service, and reforming evaluation systems.
President Wu Pute spoke highly of NWAFU's scientific achievements that have been made since the 13th Five Year Plan and expressed sincere gratitude to teachers and students that have made contributions. He emphasized the aim of the meeting, which was to continue building effective teams on scientific innovation based on the work in 2022, so as to enhance NWAFU's capacity for innovation in science and technology as well as its overall high-quality development.
President Wu also stressed the important mission that the Central Committee of the CPC and the State Council have assigned to NWAFU, which is to support and lead the development of modern agriculture in arid and semi-arid areas. Therefore, the overall work of scientific innovation must centre around this mission, with tasks in talent training, scientific research, social service, cultural inheritance and innovation, and international exchange and cooperation carefully planned as a whole, in order to advance the "Five Benchmarks" project in support of NWAFU's high-quality development.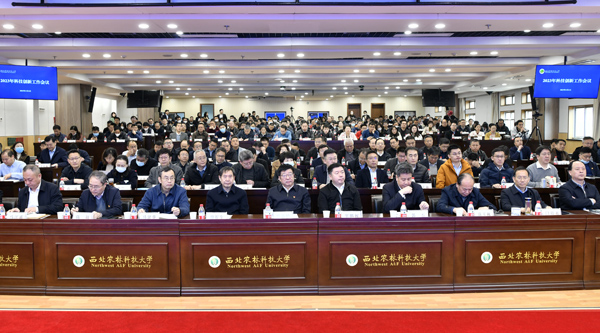 Translated by Tian Yiyun
Proofread by Yan Xianhui