On October 10th, the opening ceremony of Sino-UK Joint Green Agriculture Centre was held in the No.104 conference room of NWAFU International Communication Center. Chair of University Council, Mr. Li Xingwang addressed the ceremony. Dean of Agronomy College, Professor Shan Weixing, and Dean of Life Science College of Warwick University,Professor Lorenzo Frigerio co-inaugurated the new center.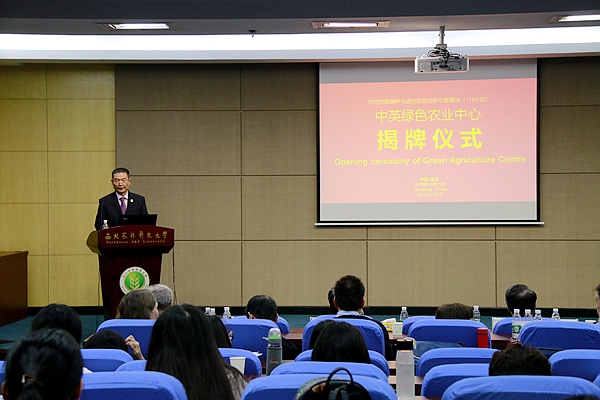 NWAFU addressing the opening ceremony

Professor Shan Weixing and Professor Lorenzo Frigerio Co-inaugurated the Center
Mr. Li Xingwang, on behalf of NWAFU extended the sincere congratulations on the establishment of the Sino-UK Joint Green Agriculture Centre. He attributed this practice of cooperation to the scientific strength and mutual trust of both sides. First, the centre will greatly promote the long-term cooperation on crop disease resistance and genetic improvement, climate change and crop production, and the development of smart agriculture; Second, for mutual benefits, the approaches and extent of cooperation are to be expanded and furthered; Third, talents cultivation will remain the top concern of both NWAFU and Warwick University, to provide more high-level agriculture personnel with international view for China, UK, and the whole world, Mr. Li said at the ceremony.
The establishment of Sino-UK Joint Green Agriculture Centre will facilitate the relative agriculture researches conducted in labs to the fields, professor Lorenzo Frigerio said in his speech. In the following cooperation, the two colleges will launch a substantive personnel training project, and many outstanding undergraduates and graduates of Agronomy College of NWAFU will be offered the opportunity for receiving research training in UK, which marks the initiation of deepening cooperation between the institutions.
Warwick University, one of world's top 100 universities in the world and one of UK's top research universities, the Life Science College of which is famous for its prominent academic research and teaching quality. Many professors from Warwick University are in the team of111 Plan--- "Introducing Foreign Talents on Reproductive Crop Breeding and Genetic Improvement Innovations" hosted by Professor Shan Weixing. The academic exchanges and scientific research cooperation in recent year have already greatly enhance the cooperation in personnel training and scientific research. The establishment of the Sino-UK Green Agriculture Center marks the launch of multi-disciplinary cooperation in crop breeding, smart agriculture and plant pathology. It is conducive to the full play of our university's strength in crop breeding, via improving our university's research quality in this field and expand NWAFU's international influence.