Home
» News
1,500 Job Vacancies! NWAFUers?
Author: Fang Qiongbo & Yuan Kaijia  Date:2019-10-21 Read:
1,500 ! Yes, that is exactly the number of job vacancies available at a job fair exclusive to NWAFU landscape architecture and other relative majors. This inspiring event sponsored by Career Center of NWAFU and hosted by College of Landscape Architecture and Art was held at Xiushan Center on south campus on October 19th, where 52 companies or institutes from 11 different provinces set their seats.

a glance at the job fair
The special job fair offers a wide range of posts, including those for landscape architecture, environmental design, urban and rural planning, forestry, horticulture, agronomy, architecture, water conservancy, water conservation and machinery. Undergraduates, graduates and doctors, all can find their corresponding job vacancies. Over 400 students flooded into the center and more than 500 resumes were submitted. In addition,a total of 13 seminars were held at the fair, and more than 500 students attended the seminars.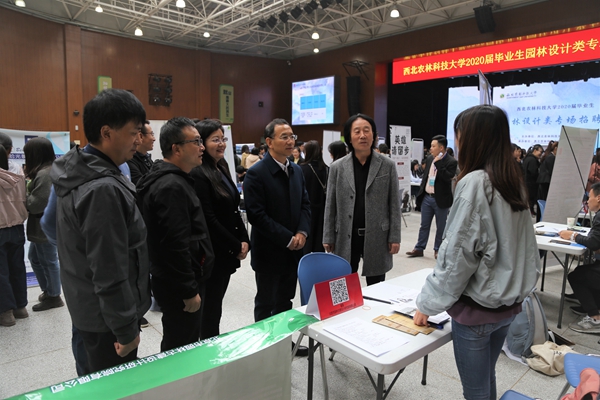 Heads of NWAFU talking with the staff of companies at the job fair

NWAFU students inquiring about the job vacancy
The job fair has established a two-way selection platform for graduates and employers. This way of good interaction between university and enterprises further strengthened the cooperation between the two sides. As giving clear direction to the graduates, the fair serves as a guidance for students of other year grades to make goal-orientated career plan, which in turn promote the employment work of the organizer-college.