Home
» News
NWAFU 2018 Undergraduate Graduation Ceremony and Degree Awarding Ceremony Was Held
Author: Jin Jun & Zhi Yongping  Date:2018-06-28 Read: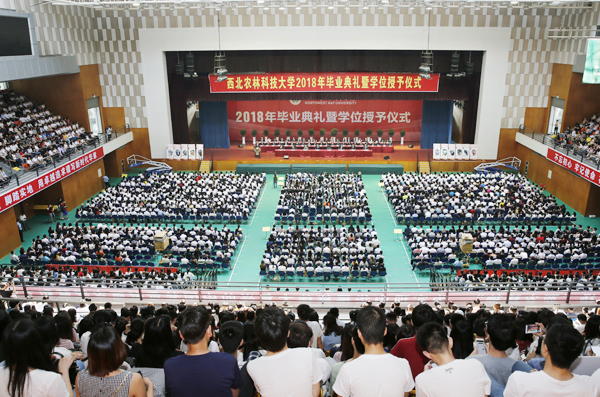 Northwest A&F University 2018 Undergraduate Graduation Ceremony and Degree Awarding Ceremony was held in the South Campus Gymnasium on June 22. 5022undergraduates are about to leave for the new journey.
President Wu Pute, on behalf of the university, expressed warm congratulations and sincere blessings to the first batch of undergraduates who graduated after Northwest A&F University was selected as "Double First-Class"university. He hoped that the graduates should be confident but not complacent, be firm and persistent, with ideals and goals in hearts. He also expressed that all the students should be confident in the university, their professional knowledge and their own abilities as self-confidence was the foundation of achievement. He hoped the graduates to think highly of long and hard work and look down on fame and fortune, living at their own pace and enjoying a wonderful life.
Luo Meiqi and other 10 graduates were awarded the "Top Ten Graduates". Huang Xiaofang and other 92 graduates were awarded the "Excellent Graduates". Du Yao and other 20 graduates were awarded the "Excellent Graduates Volunteering to Construct the Frontier". Geng Jialiang and other 257 graduates were hired as part-time alumni liaison officers.

2018 Top Ten Graduates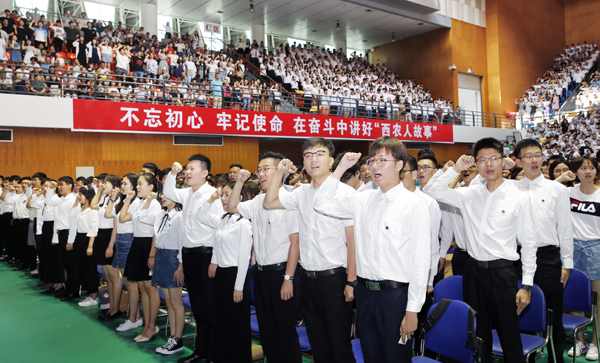 2018 Graduates Made A Pledge
Translated by Li Tingyan
Proofread by Yan Xianhu