Home
» News
The National College English Test Band 4 and Band 6 Went Smoothly
Author: Zhang Lin, Yang Yalin  Date:2021-12-20
"Please get your admission card, ID card, and student card ready.""Please line up and take temperature checks before you enter the examination room!" At 8:30 a.m. on the 18th December, the students who took the National College English Test Band 4 began to enter the examination room in order. At 9:00, with a crisp bell ringing, the test officially began. At 3 p.m. on the same day, CET-6 was also conducted in the North and South Campus of NWAFU.
A total of 14, 690 students signed up for this examination, including 2, 700 who took CET-4 and 11, 990 CET-6. Among them, 10, 289 are undergraduates and 4, 401 postgraduates. The exams took place in North and South Campuses simultaneously.
With the joint efforts of multiple departments, the examination was managed in a safe, standardized, and orderly way. During the examination, the invigilator of each examination room strictly implemented the examination discipline, and the students abided by the relevant regulations. Perfect order reigned throughout the entire examination, and the examinationsuccessfully completed.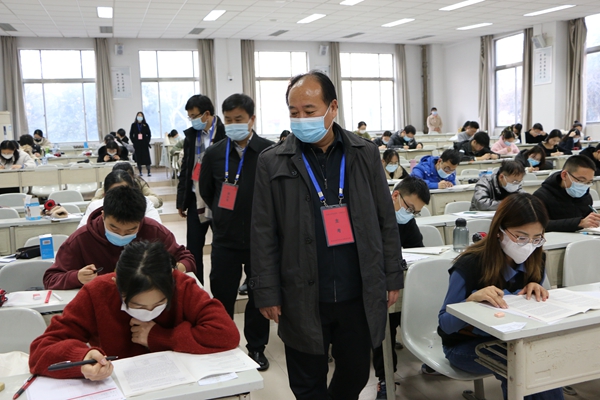 patrol the examination room
Translated by: Song Qiuyi
Proofread by: Zhang Xiaorong