Home
» News
The English Edition of Overview of Wine in China Published in France
Author: Wan Yingming  Date:2021-04-02
Recently, the English edition of Overview of Wine in China , written by Professor Li Hua and Professor Wang Hua from College of Enology of NWAFU, was published by EDP Science Publishing House in France, which has been distributed globally.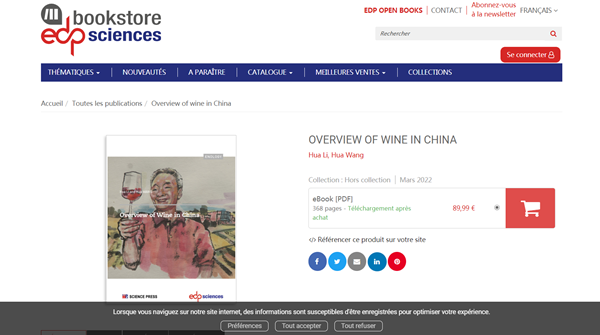 Based on the Chinese version, the latest data of the Chinese wine industry, dynamic data of producing areas and newly established wineries were added in the English version of Chinese Wine . The content of the book is even more comprehensive and detailed, reflecting the current development of the grape and wine industry in China.
The publication of the English edition of Overview of Wine in China is of great significance to introducing Chinese grape and wine industry to the whole world. It is crucial to promoting Chinese wine culture, enhancing confidence in Chinese wine producing areas, wine products and culture, and it is of great significance for Chinese grape wine to win a greater voice in the world.
Translated by: Tian Yuanyuan
Proofread by: Zhang Xiaorong