The Parallel Session on Poverty Reduction Cooperation and Rural Development of SCO Youth Technology and Innovation Forum, co-organized by Good-Neighborliness, Friendship and Cooperation Commission of the Shanghai Cooperation Organization (GNFCC SCO), All-China Youth Federation and People's Government of Guangdong Province, and co-hosted by NWAFU and SCO Demonstration Base for Agricultural Technology Exchange and Training, was heldon June 1st.
Deputy Secretary-General of the SCO Logvinov, the diplomatic envoys to China from Uzbekistan, Kyrgyzstan, Belarus and other countries, the heads of international agricultural organizations, guests from the scientific and technological, educationaland business circles, and youth scholar representatives attended the forum online. The attendees conducted in-depth exchanges on poverty reduction cooperation and rural development under the SCO framework. NWAFU PresidentWu Pute addressed the opening ceremonyand Vice President Luo Jun presided over the forum.
Adhering to the school-running philosophy of "managing state fundamentals, solving civilian livelihood, and respecting scientific research", Northwest A&F University has made important contributions to China's food security, ecological security and the modernization of agriculture and rural areas in arid and semi-arid areas, President Wu pointed out in his speech. In recent years, highly engaged in the great cause of poverty alleviation and rural revitalization, and dedicated to the promotion of agricultural science and education cooperation with countries along the "Belt and Road Initiative" and SCO member states, NWAFU has made fruitful achievements. He encouraged the young students in the SCO countries to jointly work on the technological innovation in the field of modern agriculture, so as to make their contributions to the poverty reduction cooperation and rural revitalization in the SCO countries and of the world.
Deputy Secretary-General of the SCO Logvinov, Kyrgyz Ambassador to China Baktegulova, Uzbekistan Ambassador to China Arziyev, President of Omsk State Agricultural University (Russia) Shumakova, Secreatry of Party Working Committee of Yangling Demonstration Zone HuangSiguang, and other guests delivered speeches for the opening of the forum.
Focusing on the exploration of new models of international agricultural cooperation for accelerating rural development, Belarus' participation and its role in ensuring world food security, and China's experience in poverty alleviation--several keynote speeches were given by the participants. The keynote speakers were Varma, Deputy Director of the United Nation's Center for Sustainable Agricultural Mechanization, Marchisio, representative of the International Fund for Agricultural Development in China, Sokol, Counselor of the Belarusian Embassy in China, Zhang Huidong, Deputy Director of China International Poverty Alleviation Research Center, Nie Fengying, Deputy Director of Institute of Agricultural Information and Overseas Agricultural Research Center under Chinese Academy of Agricultural Sciences and Liu Dongmeng, Deputy General Manager ofXi'an Aiju Grainand Oil Industrial Group.
In the Youth Dialogue Session, Dr. Marathi, a youth scientist at the S. Seifullin Kazakh Agrotechnical University, analyzed the prominent problems in the field of agricultural production and food import and export in Kazakhstan. Dr. Kong Hao, a Pakistani student from Northwest A&F University, shared his experience of participating in social practice in China's rural areas through the "Action Plan for International Students Perception to Help Rural Revitalization"program, where he worked as an English language teaching assistant in Heyang, Shaanxi. Hu Fenglan, CEO of Scholar Culture Communication (Beijing) Co., Ltd., introduced the youth innovation and entrepreneurship education for the advance of poverty reduction cooperation, and put forward the proposal of establishing Scholar Academy and organizing Model SCO and Agora: SCOLAR.
Ge Maosheng, a youth scientist from Northwest A&F University, shared his experience as a team member of China-Uzbekistan Water-saving Agriculture Overseas Demonstration Park in the "Belt and Road Initiative" international poverty reduction program. In his report titled "Loving the World and Being a Bright Messenger of International Poverty Reduction Cooperation", he appealed the youth scientific and technological workers at home and abroad to work jointly and contribute to the great cause of international poverty reduction and rural development.
The SCO Youth Technology and Innovation Forum is an active and timely answer to President Xi Jinping's initiative at theCouncil of Heads of State of the SCO Member States in 2021. The forum plays a vital role in promoting the exchanges between China and other countries in terms of sci-tech innovation and intellectual cooperation, the development of relevant fields, and the enhancement of international cooperation. The forum consists of six parallel sessions, including "Youth Innovation Cooperation, People's Health, Digital Economy Development, Artificial Intelligence, Green Development, Poverty Reduction Cooperation and Rural Development", among which the Poverty Reduction Cooperation and Rural Development Session is the only one not held in the host city Shenzhen. Vice President of NWAFU Luo Jun attended the closing ceremony of the SCO Youth Science and Technology Innovation Session held in Shenzhen on behalf of the university of this parallel session, and make report on the results of this session.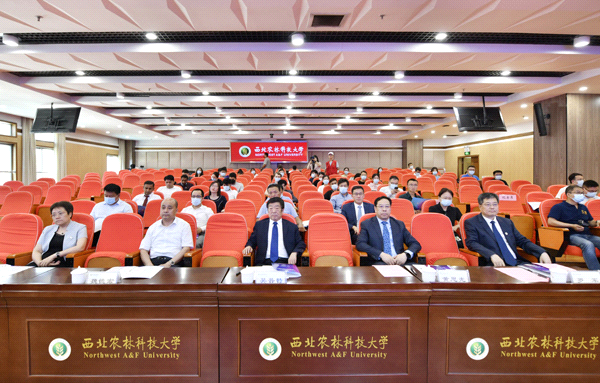 Parallel Session on Poverty Reduction Cooperation and Rural Development of SCO Youth Technology and Innovation Forum
Translated by Tian Yiyun
Proofread by Yan Xianhui