Home
» News
The National Innovation Alliance of Grape and Wine Industry Founded at NWAFU
Author: Sun xiangyu  Date:2021-06-17
The inaugural meeting of the National Innovation Alliance of Grape and Wine Industry of the State Forestry and Grassland Administration was held in NWAFU the other day. Members of the Alliance Council and the expert committee, and NWAFUteacher and student representatives attended the meeting.
Approved by the National Forestry and Grassland Administration, the National Innovation Alliance of the Grape and Wine Industry aims to implement the spirit of "strengthening the construction of the national innovation system and deepening the reform of the sci-tech system" and to promote the development of the grape and wine industry. The College of Enology of NWAFUserves as the chair-unit of the alliance. Mr. Fang Yulin, the first chairman of the alliance, introduced the process and intention of the alliance's establishment, and then outlined the future plan.
The founding conference of the alliance was followed by an academic seminar themed on"Grape and Wine Industry Development in New Era".All experts present exchanged ideas of the selection of grape varieties in different producing areas, the cultivation of typical grape varieties of China in the future, the cultivation of wine consumption culture and consumer groups, and the exploration of new-type wine.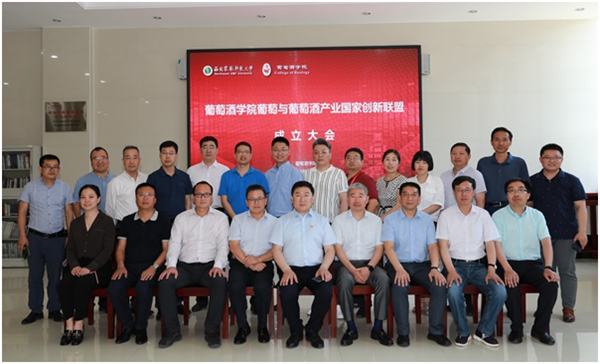 Translated by: Tian Yiyun
Proofread by: Yan Xianhui