Zhu Xianmo (1915-2017), former researcher at the Institute of Soil and Water Conservation, Ministry of Water Resources, and senior academician of the Chinese Academy of Sciences
A symposium to commemorate the 105th anniversary of the birth of academician Zhu Xianmo, a guiding light of the "Yellow River flowing clear water" project, was held on Dec 4 at Northwest A&F University in Yangling, Shaanxi province, Northwest China, in order to remember his outstanding contributions to soil science and to soil and water conservation in China.

Before the symposium, a statue of Zhu Xianmo was unveiled in front of the University's Institute of Soil and Water Conservation scientific research building.
Academician Zhu Xianmo, born on December 4, 1915, was the pioneer and founder of modern soil science in China and was engaged in the scientific research of soil for more than 70 years.
"He always cherished the motherland, served the people, innovated boldly and practiced bravely," said Wu Pute, president of Northwest A&F University.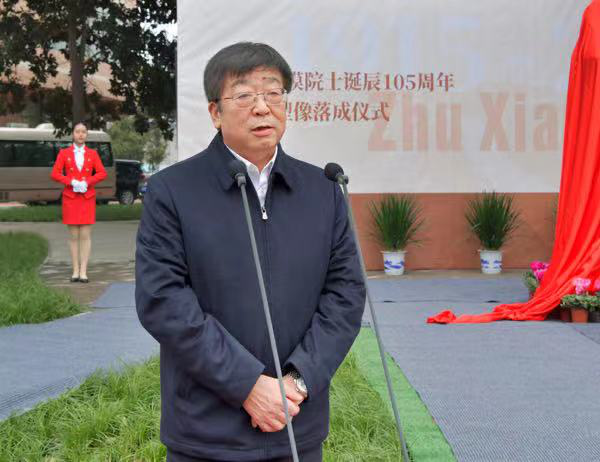 Wu Pute, president of Northwest A&F University, delivers a speech at the unveiling ceremony of Zhu's statue.
In the areas of soil genesis, soil classification and the rational utilization of China's soil resources, Zhu Xianmo made outstanding contributions, turned scientific findings into practical actions, and set an example in terms of carrying forward and passing on the spirit of scientists in the new era, the university president said.
As a strategist looking at land consolidation on the Loess Plateau, Zhu Xianmo conducted more than 20 visits to the plateau's gullies and canyons. Summarizing the research results obtained in areas like soil erosion, soil and water conservation and land consolidation, Zhu put forward specific strategies for land consolidation on the Loess Plateau, which provided a theoretical basis for restoring the Loess Plateau and clearing the Yellow River, Wu said.
At the symposium, participants said that as an excellent representative and model of the times, academician Zhu Xianmo trained a number of pioneers and core staff on the frontline of soil and water conservation, laying a "talent foundation" for accelerating the construction of a healthy environment in China.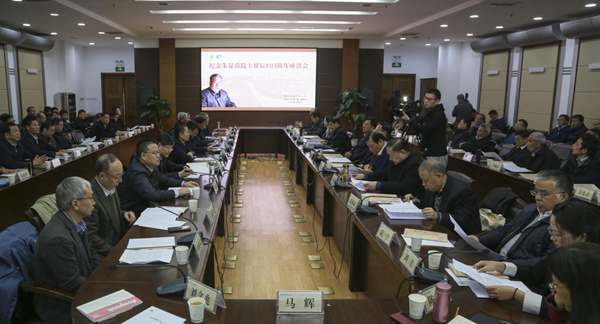 The symposium is held on Dec 4.
The participants added that they should take Zhu Xianmo as a role model; actively fulfill the national mission; focus on serving the modernization of national agriculture based on the protection and high-quality development of the Yellow River Basin; implement new development concepts; innovate new means of demonstration and promotion; comprehensively improve the transformation of research into policy; and build Yangling into a professional agricultural science and technology demonstration city.