From November 27th to 28th, the 2nd International Symposium of Silk Road Wheat Innovation Alliance was held at NWAFU, both online and offline.
Along with 160 graduates of NWAFU, there were 97 wheat experts from Russia, and grain-and-oil entrepreneur representatives from Russia, Ukraine, Kazakhstan, Uzbekistan, Pakistan, Kyrgyzstan, Croatia, Turkey, Israel, Egypt and Chinese Academy of Sciences, Chinese Academy of Agricultural Sciences, and representatives of grain-and-oil companies attending the conference. They exchanged ideas and shared experience in the innovation of wheat germplasm resource, breeding of new wheat variety, green production, processing and trade of agricultural product, talent training and the construction of overseas demonstration park in countries along the Silk Road.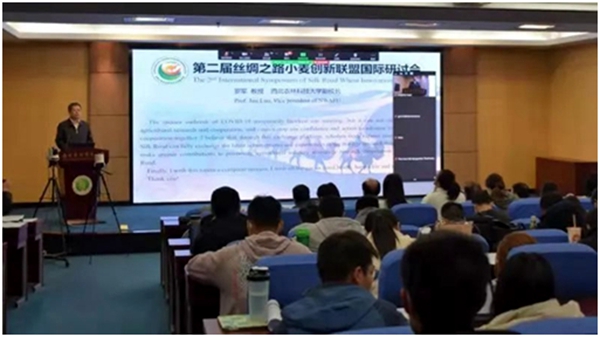 At the conference, before the deployment of working plan for year 2022, the attendees summarized the work the alliance conducted in the past two years. It was fully acknowledged that the achievements in the promotion of collaboration in scientific research project, talent training, cultural communication and the construction of demonstration parks were greatly inspiring.
Seventeen experts or young scholars of China and other countries exchanged ideas of wheat breeding for drought and stress resistance, germplasm resource innovation, research and development of green cultivation technology, agricultural cooperation models, and construction of overseas agricultural sci-tech demonstration parks. The communication at the conference enhanced our understanding of wheat production in Ukraine, Turkey, Croatia, Egypt and other countries, opened up more cooperation channels, and promoted the mutual the friendship. Taking this conference as an opportunity, countries along the Silk Road are more determined to overcome the obstacles brought by COVID-19 pandemic, and firmly strengthen the collaboration for the high-quality development of world wheat industry.
Translated by Tian Yiyun
Proofread by Yan Xianhui