From October 12th to 15th, the "2018 First International Workshop on Lacquer Science and Lacquer Art ", sponsored by NWAFU and co-organized by the People's Government of Langao County, Shaanxi Province was held in NWAFU. Inspector Du Jishan from the Science and Technology Development Center of the National Forestry and Grassland Administration attended the meeting and said that China Forestry and Grassland Bureau used lacquer trees as an important raw material tree species to support the lacquer industry research.
The theme of the workshop was "Science and Art complement each other", more than 20 well-known domestic universities, research institutes, lacquer science artists, and well-known lacquer art experts and scholars at home and abroad, from Tokyo University of the Arts, Japan's Public Aizu University, Tsinghua University, Institute of Chinese Academy of Forestry, Institute of Insects of Chinese Academy of Forestry, Southeast University, Sichuan Academy of Fine Arts, Northwest University, Fujian Province China Paint New Material Engineering Research Center, Xi'an Jinshan Lacquer Technology Research Institute, and Cultural Development Studio, attended the workshop.
On behalf of NWAFU, Vice President Luo Jun welcomed the participants and introduced the remarkable achievements of the university in the research of lacquer tree and raw lacquer for more than 40 years, hoping that the experts and scholars at the workshop will carry out active and extensive academic exchanges, and reach more consensus on the future development of lacquer and lacquer art, so that China's lacquer and lacquer art research will be further improved.
In addition, during the workshop, the Silk Road Lacquer Art Museum was officially opened under the careful planning of Professor Huang Xiaohua, founder of the conference, and Northwest A&F University Expo Park.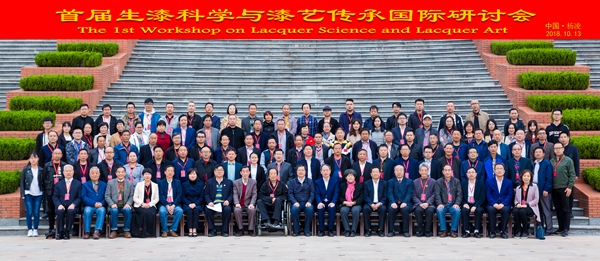 Translated by: Ruan Shuling
Proofread by: Zhang Xiaorong