Home
» News
The 100th Anniversary of Academician Zhao Hongzhang's Birth Symposium Held
Author: Li Xiaochun Zhi Yongping  Date:2018-06-19 Read: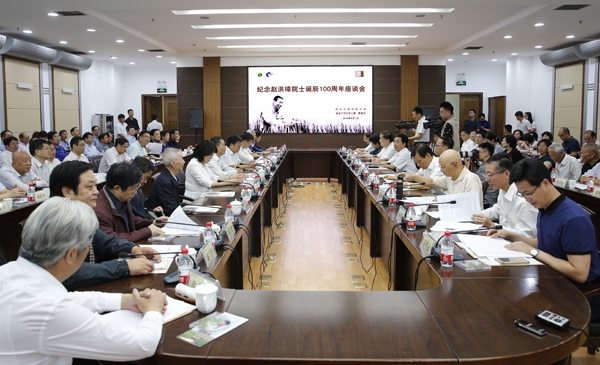 Symposium Venue of the 100th Anniversary of Academician Zhao Hongzhang's Birth
On June 1st, the university and the Yangling Demonstration Zone held a symposium to commemorate the 100th anniversary of the birth of Zhao Hongzhang, a great master and scientist of the wheat breeding in China, and an academician of the Chinese Academy of Sciences. Zhang Baowen, vice chairman of the Standing Committee of the 12th National People's Congress and former president of Northwest A&F University, attended the symposium and delivered a speech. He stressed that honoring the great achievements of Academician Zhao Hongzhang is to firmly establish a people-centered ideology, vigorously pass on and carry forward the "spirit of NWAFU", stimulate the spirit of pioneering and innovation, provide intellectual support for the implementation of the "rural revitalization strategy", and build the university into a world-class agricultural university as soon as possible.
NWAFU party secretary Li Xingwang briefly reviewed the life of Academician Zhao Hongzhang in his speech, especially his pioneering and historic contributions to the wheat industry in China, and his noble character of unremitting struggle and unwavering ideals for the country, the nation, and the people. He pointed out that commemorating Academician Zhao Hongzhang is to learn from his lofty ideals of sincerely serving the country and loving the people; learn from his noble characters of being indifferent to fame and wealth and being an exemplary teacher; learn from his broad mind of being open and cooperative, selfless and dedicated; learn from his hardworking spirit of being willing to endure hardship and seeking truth from facts; learn from his pioneering spirit of daring to be first and pursuing excellence.
President Wu Pute presided over the symposium, hoping that all teachers and students think with one mind and work with one heart, contribute to building a world-class agricultural university and the Chinese dream of realizing the great rejuvenation of the Chinese nation with relentless spirit and indomitable effort.
Translated by: Ruan Shuling
Proofread by: Zhang Xiaorong