From May 20th to 28th, NWAFU party secretary Li Xingwang led a delegation to visit University of Alberta, University of Guelph in Canada and Mexico International Maize and Wheat Improvement Center, conducted in-depth exchanges and discussions concerning aspects of cooperative education, personnel training and scientific research collaboration with the visiting units and reached a number of consensus. Professor Yao Junhu from College of Animal Science and Technology, Professor Cai Cheng, Dean of College of Information Engineering, professor Ji Wanquan, wheat breeding expert from College of Agronomy, Yan Zushu, Director of Publicity Department, and Qiao Wenjun, Deputy Director of International Cooperation and Exchange, accompanied the delegation.
  From the 21st to the 22nd, the delegation visited the University of Alberta in Canada. The two sides have conducted fruitful cooperation in student exchanges, 2+2 joint training, cooperative research, and selection of graduate sponsored by government, laying the foundation for further broadening the field of cooperation in the future. The two sides agreed to actively carry out cooperative education projects and explore the establishment of a joint college. On May 23rd, at the University of Guelph, the delegation conducted in-depth exchanges on cooperation projects for talents, 3+2 personnel training, undergraduate internships as well as talent recruitment, and reached initial intentions. Animal and Biological Center of University of Guelph will cooperate with the College of Animal Science and Technology of NWAFU to carry out scientific research cooperation, the China Scholarship Council designation for the postgraduate education and so on. The School of Engineering agrees to accept engineering students from College of Information Engineering in NWAFU for a one-year internship, meanwhile, carry out 2+2 (double bachelor), 3+2 (bachelor of NWAFU, master of the other) joint training program for engineering students through the course docking. NWAFU actively invites relevant professors from the University of Guelph to give lectures or conduct co-operative research to promote the training of talents in schools and the development of disciplines.
  From May 25th to 26th, Li Xingwang and the delegation came to Mexico International Maize and Wheat Improvement Center, visited breeding laboratory and scientific research base, the maize and wheat germplasm repository, AI laboratory and watched the long history of breeding in the expo pavilion. At the same time, they also listened to the detailed reports of the latest research progress in the areas of maize and wheat by Carolina Saint Pierre, Zhang Xuecai, Carlos Guzman, Hans-Joachim Braun, Ravi P. Singh, and Pawan K. Singh, filled with confidence in carrying out deep cooperation and extensive communication in the future. It is hoped that teachers in NWAFU from College of Agronomy, College of Plant Protection and College of Life Science take the initiative to use international top research platforms, carry out multi-channel and multi-field cooperation in all directions to improve the research level of NWAFU and effectively boost our university's "two first-class" construction.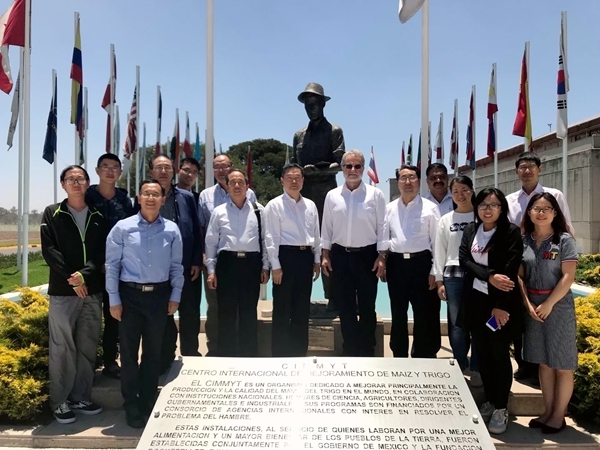 Translated by: Ruan Shuling
  Proofread by: Zhang Xiaorong