Home
» News
Academician Zhao Chunjiang Appointed "Academic Dean" of College of Information Engineering
Author: Fu Wenting,Zhi Yongping  Date:2018-05-30 Read: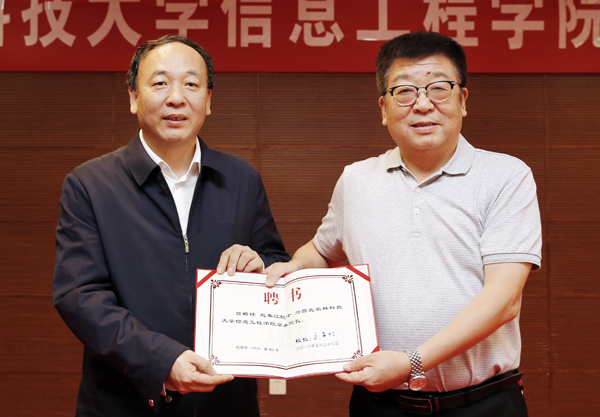 On May 22nd, Academician Zhao Chunjiang, Academician of the Chinese Academy of Engineering and Director of the National Agricultural Information Engineering and Technology Research Center, was appointed as "Academic Dean" of the College of Information Engineering. President Wu Pute issued a letter of appointment for Academician Zhao Chunjiang and Vice President Ma Jianhua presided over the appointment ceremony.
"Work hard, do more practical things, make due contributions to the construction and development for College of Information Engineering," Academician Zhao Chunjiang made a promise in his speech, expressed thanks for the trust of the university, and affirmed the great progress made by the college in recent years. He said that in the future, he would work together with the college to deal with the problems in the development and make concerted efforts to make College of Information Engineering better and stronger.
Wu Pute expressed sincere thanks to Academician Zhao Chunjiang for his appointment. He pointed out that as one of the four major sciences of the 21st century, information science and technology have led, supported and promoted the development of modern agricultural science and technology. The university party committee attached great importance to it and College of Information Engineering was established very early. In the implementation year of the university's "two first-class" construction plan, Academician Zhao Chunjiang was hired as the "Academic Dean" to help and promote the discipline construction and development of College of Information Engineering. It is hoped that with the help of favorable conditions, College of Information Engineering will earnestly study and consolidate the orientation of academic discipline construction and the direction of discipline development, identify breakthroughs in the development of disciplines in the future, strengthen confidence, word hard, and make every effort to speed up the pace of construction of College of Information Engineering.
After the appointment ceremony, Academician Zhao Chunjiang gave an academic report entitled "Intelligent Agricultural Outlook". More than 200 teachers and students attended the lecture.
Translated by: Ruan Shuling
Proofread by: Zhang Xiaorong