The 4th International Conference on Beef Cattle Improvement and Industrialization in China Held in Northwest A&F University
From November 29th to 30th, hosted by Northwest A&F University and the National Beef Cattle Improvement Center, the 4th International Conference on Beef Cattle Improvement and Industrialization in China was held. More than 260 experts, scholars and representatives of enterprise technical staff from 11 countries including China, the United States, South Korea, Japan, Australia, New Zealand, Pakistan, Kazakhstan, Vietnam, Benin and Egypt attended the conference.
During the two-day meeting, the participating experts conducted in-depth discussions and exchanges on the theme of "Strengthening the Breeding and Improvement of Chinese Yellow Cattle and Promoting the Development of Modern Beef Cattle Industry". A total of 32 experts made reports at the conference, including Professor Wu Changxin, an academician of Chinese Academy of Sciences from China Agricultural University, Researcher George E. Liu, Chief scientist and Director of Animal Genomics Research Office of the U.S. Department of Agriculture, Professor Song Jiuzhou from University of Maryland, Professor Hans. Daetwyler from La Trobe University, Australia, Researcher Allan. Sheppard from University of Auckland, New Zealand, Professor Robert D. Schnabel, Professor Kang-seok. Seo, and Professor Masashi Takahashi. The seminars focused on genetic improvement and germplasm innovation of yellow cattle in China, beef cattle efficient breeding system and the establishment of operating mode, beef cattle healthy breeding and high-quality beef production, high-quality beef safety production quality control and traceability, the establishment of beef cattle international trade and marketing system and other topics.

32 experts and scholars,including Wu Changxin, academician of Chinese Academy of Sciences, made academic reports at the conference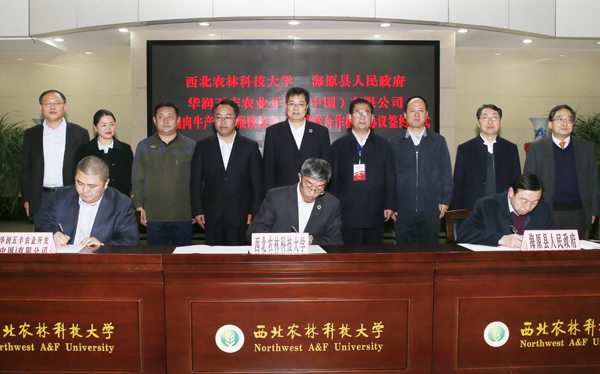 NWAFU, Haiyuan County and China Resources Ng Fung Limited signed the "High-end beef cattle industry development of government-school-enterprise strategic tripartite cooperation framework agreement"

Zhongwei Municipal Committee, Haiyuan County Party Secretary Xu Haining issued the letter of Haiyuan beef cattle industry chief expert appointment to Professor Zan Linsen
The Agreement proposed the tripartite cooperation between NWAFU, Haiyuan County People's Government and China Resources Ng Fung Agricultural Development (China) Co., Ltd. to build Haiyuan beef cattle industry technical guidance service center and the high-end beef cattle industry development research institute in west China, to build the largest beef cattle breeding base and high-quality beef cattle breeding base for Hong Kong in Northwest China from the variety improvement, the transformation of achievements, science and technology services and personnel training and other aspects of technical support and demonstration, to create a new model for the whole industry chain development integrating beef cattle breeding, healthy farming, efficient fattening, live cattle supply to Hong Kong, slaughtering and processing, product sales and social services, and to promote the seamless connection between high-quality beef cattle and high-quality beef cattle breeding for poor households in Haiyuan County, making high-quality beef cattle breeding an important channel for poverty-stricken people to throw off poverty and increase incomes.
NWAFU's vice President Luo Jun, NWAFU Party Committee Standing Committee, Assistant to the president Wei Gehong, Dean of College of Animal Science and Technology Professor Yao Junhu, and Liu Xuezhi, Deputy Mayor of Zhongwei City, attended the signing ceremony. Wang Yaping, Director of Science and Technology Promotion Office presided over the signing ceremony. Pu Shi, Xu Haining, Qian Yonghua delivered speech respectively, expressing that they would make concerted efforts to build the High-end Beef Cattle Industry Development Research Institute in west China into a first-class platform for sharing scientific and technological innovation, demonstration and promotion and talent training through enterprise operation mode, to accelerate the transformation of scientific research achievements of colleges and universities into actual productivity, promote the technological progress of enterprises and drive the poor farmers to shake off poverty and become prosperous.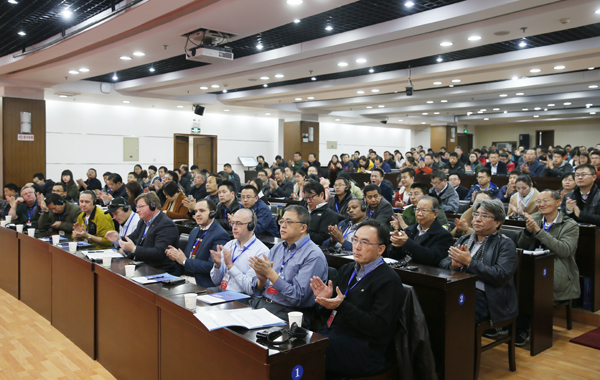 Over 260 experts and scholars from 11 countries attended the seminar
Translated by: Ruan Shuling
Proofread by: Zhang Xiaorong