Home
» News
Prof. Wang Youke's Team Filling the Void of Winter Jujube Cultivation in Northern Shaanxi
Author: Wang Xuefeng  Date:2017-09-29 Read:
NWAFU's Winter Jujube Introduction Cultivation Field Day came off at Wubu County on September 28th. Prof. Wang Youke, who serves in China Water-Saving Irrigation's Yangling Engineering Research Center, led his team to the successful introduction of winter jujube in Northern Shaanxi. Their research extends the boundary of northern Shaanxi winter jujube cultivated area northward by nearly 400km and fills the previous cultivation void, which is positively significant to the structure adjustment and quality & efficiency improvement in the north part of Shaanxi Province.
As a traditionally cultivated species, jujube's planting history can be dated back to hundreds of years ago in northern Shaanxi. So far its cultivation area in the region is nearly 2 million mus. Recent years' influences from climate and market etc., however, slow down the development speed of local jujube industry, which places change and transition on top of the agenda. Winter jujube, with its long freshness preservation period and topnotch quality, becomes a well-received fresh-eating species, yet it has been years since the researchers experimenting on its introduction to northern Shaanxi. Low output and immature fruit seemed insurmountable.
From 2013, Prof. Wang Youke's team launched the winter jujube introduction experiment with cooperation from the Forestry Bureau of Wubu County. They developed a delicacy management mode with main focus on water-fertilizer regulation and pruning regulation. The mode was demonstrated in Chuankou Village in 2015 which turned out to be a success. This year, winter jujube in the demonstration park can output 1200kg/mu, with a rise of output value per mu from 890 Yuan to 7200 Yuan and an 83% reduction of water consumption.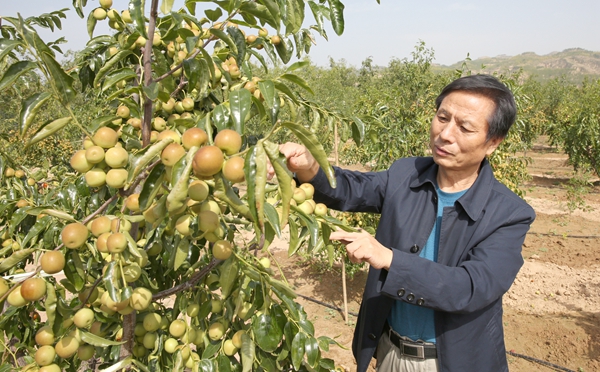 Translated by: Zhao Rui
Proofread by: Yan Xianhui