Home
» News
NWAFU's Commitment to National Food Security Commended on the Front Page of Guangming Daily and as the Top Story of GMW
Author: Wang Xuefeng  Date:2020-06-23 Read:
  On June 22, an article entitled "Contributing NWAFU's Power to National Food Security" was published on the front page of Guangming Daily and as the top story of Guangming Online (GMW), giving an in-depth reporting on NWAFU's contribution to national food security since the founding of New China seventy years ago.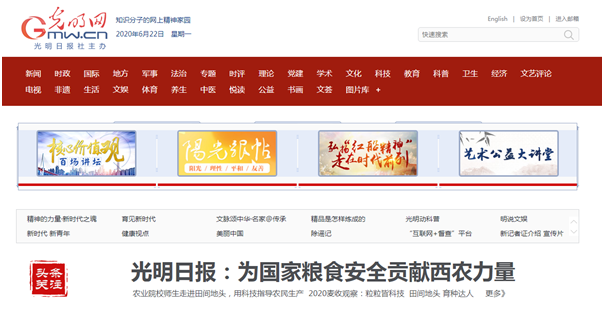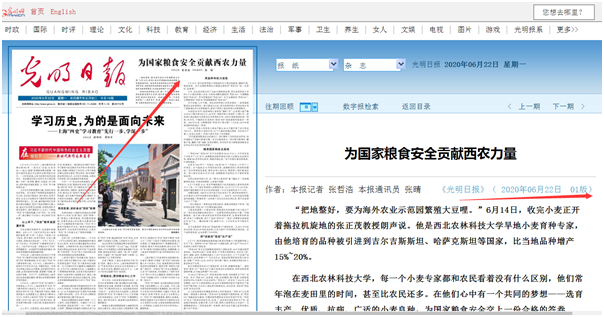 NWAFU emerged, acted and rose because of the national strategy. In response to the national strategy of food security, NWAFU shouldered its responsibility by developing new wheat cultivars which later promoted four renewals of wheat in Huanghuai wheat zone and six in Shaanxi province. Among these wheat varieties, "Bima 4" cultivated by academician Zhao Hongzhang in the 1950s increased China's wheat yield from 80 kilos to 200 kilos; "Xiaoyan 6" bred by academician Li Zhensheng in the 1980s kept China ahead in terms of the wide cross breeding of wheat and was awarded the first prize for the National Award for Invention in 1985; "Shaan 7859" developed by researcher Ning Kun in the 1990s obtained the first prize for the National Science and Technology Progress Award; and "Xinong 979" invented by professor Wang Hui has reached the extension area of 150 million mu since 2005, and won the second prize of the 2019 National Science and Technology Progress Award.
  In May this year, 6 wheat varieties of NWAFU was examined and approved by the state, setting a record high in the university's history. Since the founding of New China, the wheat varieties bred by the intelligent people in NWAFU have raised the wheat output per mu from 80 kilos to around 700 kilos. Especially after the merging of the university, based on the strategy of "Storing Grain in Land and Technology", NWAFU has always been devoted to the cause of national food security by continuously improving both the yield and quality of crops. Till now, NWAFU has had overall 16 wheat cultivars of high yield, superior quality and disease resistance approved by the state, which—as concrete actions—perfectly demonstrating its own commitment of "keeping the food-supply reins tightly under China's own control".
Translated by Tian Yiyun
Proofread by: Yan Xianhui