On June 12th, the off-line activities of enjoying gardening with the theme of "Appreciating Horticultural Achievements, Farewell to Graduates" were held in front of the Agricultural Science Building in NWAFU. 1500 scientific research by-products of experimental demonstration stations from the College of Horticulture were given to graduates.

Special graduation gift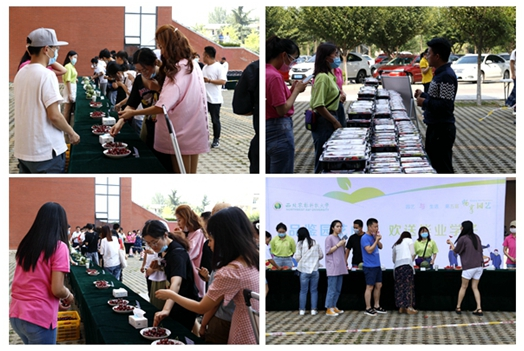 Enjoy gardening & Appreciation
  This year's enjoy gardening activity started on June 9th for 4 days. There have been a total of four issues on the theme of "Enjoy gardening • graduates" online, including four modules: "listening • the growth story of youth model ", "pursuing • the successful transition of further education and employment", "implanting• gratitude of loving and honoring school" and "Promoting • the melody of the times of strengthening agriculture and prospering agriculture ". Scientific knowledge report on horticultural scientific research products are also set up including 5 varieties of watermelon, melon, cherry and other varieties, telling the story behind the development of new varieties by scientists, inspiring every generation of graduates to keep in mind the spirit of scientists and the spirit of NWAFU, and strive unremittingly in their future positions.
  The offline activity experience consists of three parts: "appreciation of horticultural achievements", "distribution of horticultural achievements" and "expression of NWAFU (Horticulture) group photo". 1500 kilograms of watermelon, 500 kilograms of cherry and 500 kilograms of melon, including NWAFU No. 5, Linglong king, Jimei, Lamingsi, Greenjade, etc. cultivated by experts of the university, are not only scientific research achievements, but also teachers' expectations and blessings for graduates.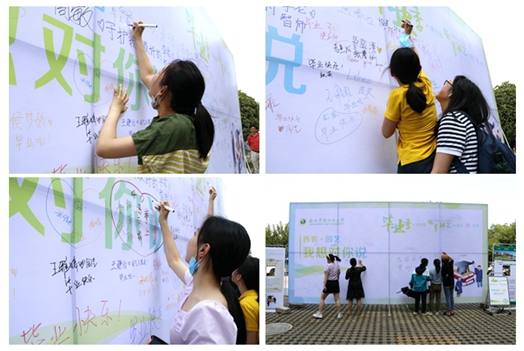 Recall the most beautiful memories
  Graduates who have returned to university can get a " scientific research achievements receiving tickets" by participating in online activities, sharing and exchanging, submitting creative works or completing scientific research achievements and popular science questions. With the ticket, they can get a "scientific research achievements platter" in the scientific research achievements distribution area, and a graduation gift with full blessings and ardent expectations from the university.
  Translated by: Ruan Shuling
  Proofread by: Zhang Xiaorong