Home
» News
NWAFU Bid Farewell to Selected Students of 2018 to Where the Motherland and the People Need Them Most
Author: Zhang Yanyan,Jin Jun  Date:2018-06-19 Read: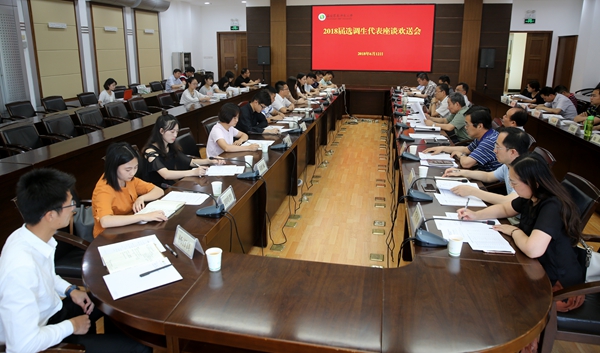 On the afternoon of June 12th, the university held a 2018 selected students farewell meeting at the International Cooperation and Exchange Center. Twelve selected representatives from 10 colleges attended the symposium.
In 2018, several parties of the university act jointly to further dig out the recruitment requirements for the selection of candidates, carry out accurate training guidance, and earnestly improve the employment competitiveness of student, which effectively promotes the work of the selection to a larger and broader scope. Up to now, there have been a total of 193 students in 16 provinces and localities. All of them have completed the recruitment procedures. The investigation and signings of 15 other provincial and local selected students are being carried out.
NWAFU party secretary Li Xingwang attended the symposium and sent a message to the 2018 selected students. Three hopes were put forward for the candidates who will head off to the grassroots: The first is to strengthen ideals and beliefs, and remember the mission. The second is to pay attention to study and research, and enhance practical skills. The third is to insist on serving the people and be good at real practice and hard work.
Six selected representatives including PhD graduate Yin Pengxian from College of Forestry, undergraduate Tian Yequn, graduate Zhang Pingping from College of Life Sciences, PhD graduate Zheng Chao from Institute of Soil and Water Conservation, graduate Shen Li from College of Horticulture, and undergraduate Yang Bailiang made speeches successively. They fully expressed their deep feelings of gratitude for NWAFU's concern and cultivation. In combination with their own learning and growth experience, they shared the mentality of their choice of grassroots and their commitment to the future work as well as their determination to contribute to the grassroots.
Six Selected Student Representatives delivered Speeches
Translated by: Ruan Shuling
Proofread by: Zhang Xiaorong