Home
» News
Academician Li Tianlai Appointed as Academic Dean of College of Horticulture
Author: Zhang Lin,Gui Kai,Guo Yuanyuan  Date:2018-06-19 Read:
On the afternoon of June 9th, in Conference Room 208 of the International Cooperation and Exchange Center, Professor Li Tianlai, Academician of the Chinese Academy of Engineering and former Vice President of Shenyang Agricultural University, was appointed as Academic Dean of College of Horticulture. President Wu Pute issued a letter of appointment and made a speech.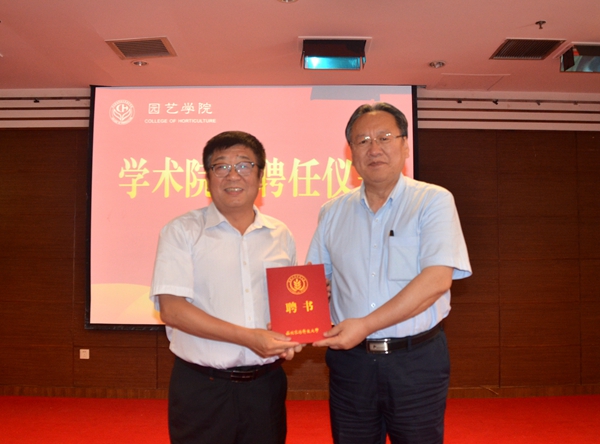 In his speech, Academician Li Tianlai thanked the University for the great trust. He expressed his willingness to do his utmost, actively perform his duties, fulfill his responsibilities, and contribute to the development of College of Horticulture. He also said he will strengthen the cooperation and exchanges between NWAFU and Shenyang Agricultural University in the future and play an active role in achieving win-win cooperation.
On behalf of NWAFU, President Wu Pute in his speech expressed his sincere gratitude to Academician Li for his appointment as academic dean of the university and years of concern for supporting the development of College of Horticulture. He said in the critical period of the current development of the university, the arrival of Academician Li will certainly play an important role in the development of the college's various undertakings. Wu Pute analyzed the weaknesses and shortcomings of College of Horticulture in summarizing, condensing and improving the university's science and technology promotion model, professional master's degree training, national level research, teaching achievement awards, and obtaining high-level papers. Three requests were made to the teachers and students of the college: First, the party and administration team should lead the teachers and students of the entire college to fully support Li's work; second, the College of Horticulture take Academician Li's arrival as an opportunity to create new achievements; third, it is hoped that the College of Horticulture will play its due role and a greater role in the construction of "two first-class" university.
Translated by: Ruan Shuling
Proofread by: Zhang Xiaorong