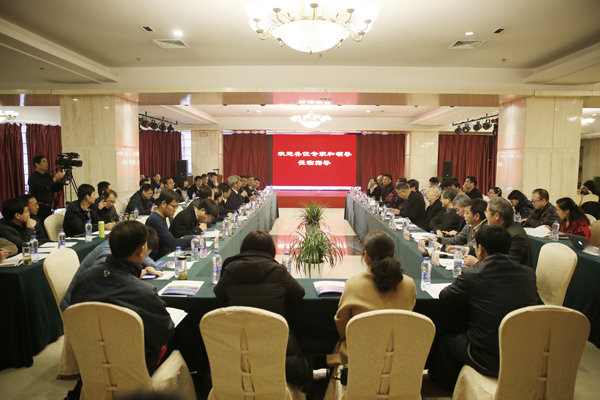 On December 5th, the 3rd meeting of China National Laboratory of Soil Erosion and Dryland Agriculture on the Loess Plateau's 6th Academic Committee was held in Xi'an. Academician Qin Dahe – committee director, academician Shan Lun – senior academic counsellor, academician Fu Bojie – vice director, and 8 other committee members including academician Kang Shaozhong and academician Shao Mingan, attended the meeting. Relevant leaders from National Natural Science Foundation of China and Chinese Academy of Sciences, Yan Zushu – member of NWAFU Standing Committee of CPC and party secretary of Institute of Soil and Water Conservation, Wei Gehong – member of Standing Committee of CPC and executive vice-president of NWAFU Institute of science and technology development, and leaders and labs' backbone researchers of Institute of Soil and Water Conservation also participated.
The meeting reached a consensus about the lab's remarkable achievements in team construction, scientific research, and platform building during the main research of soil erosion, dryland farming, water and soil process, and ecological restoration. In 2017, the lab recruited 1 academician of Chinese Academy of Sciences, 1 member of American Association for the Advancement of Science, 1 winner of Young Talents Program, and 1 winner of Outstanding Youth Science Foundation. There were 2 new national key research and development projects and 5 new research projects. Over 110 academic papers publishing on the SCI journals of Nature Plant, Global Change Biology, Global Environmental Change, Earth-Science Reviews, Elife, etc. ascribed the lab as the first author affiliation, among which 40 papers were accepted by the first-rank journals recognized by the Chinese Academy of Sciences. The productivity model of terrestrial ecological system constructed by light source restriction equation revealed global-scale climate change's influence on ecological carbon-water cycle, which assumed great international significance. The lab also assessed the return farmland to forest project's carbon sequestration status, speed, and potential, and completed systematic comparison and assessment of Loess Plateau soil erosion model. Farmland Quality Conservation Technical Specification of Weibei Dry Highland was completed and received Shaanxi Provincial standard. The lab was awarded 5 scientific research awards at ministerial and provincial levels. Other progresses included renewing equipment and making achievements in research and development. Independent projects were also designed in a more scientific and reasonable manner.
The meeting pointed out that in the future development, the lab should orient to the Loess Plateau, connect the micro and the macro lvels, and improve research proficiency; the lab should also deepen the research on restoring plants' ecological functions and assessing the sustainability, and improve the competence of dealing with the major demands at national and local levels.
Translated by: Zhao Rui
Proofread by: Yan Xianhui